We are excited to invite you to our FIRST in-person class!
Join
Amanda Sage and Mark Henson at their intimate painting seminar in San Francisco!
LIMITED SPACE!
APPLY NOW
Envisioning a Natural Life in a Technological World
As we move into the future, we are faced with the challenge of surviving in a world
impacted by destructive technologies. Global warming, pollution of air, water and soil,
deforestation, the widespread extinction of plants and animals are all problems facing
humanity.
In service to survival, we rethink our connection to the natural world and envision ways we can reconnect to the source of life beneficial to create a reality where mankind and Mother Nature share a harmonious existence.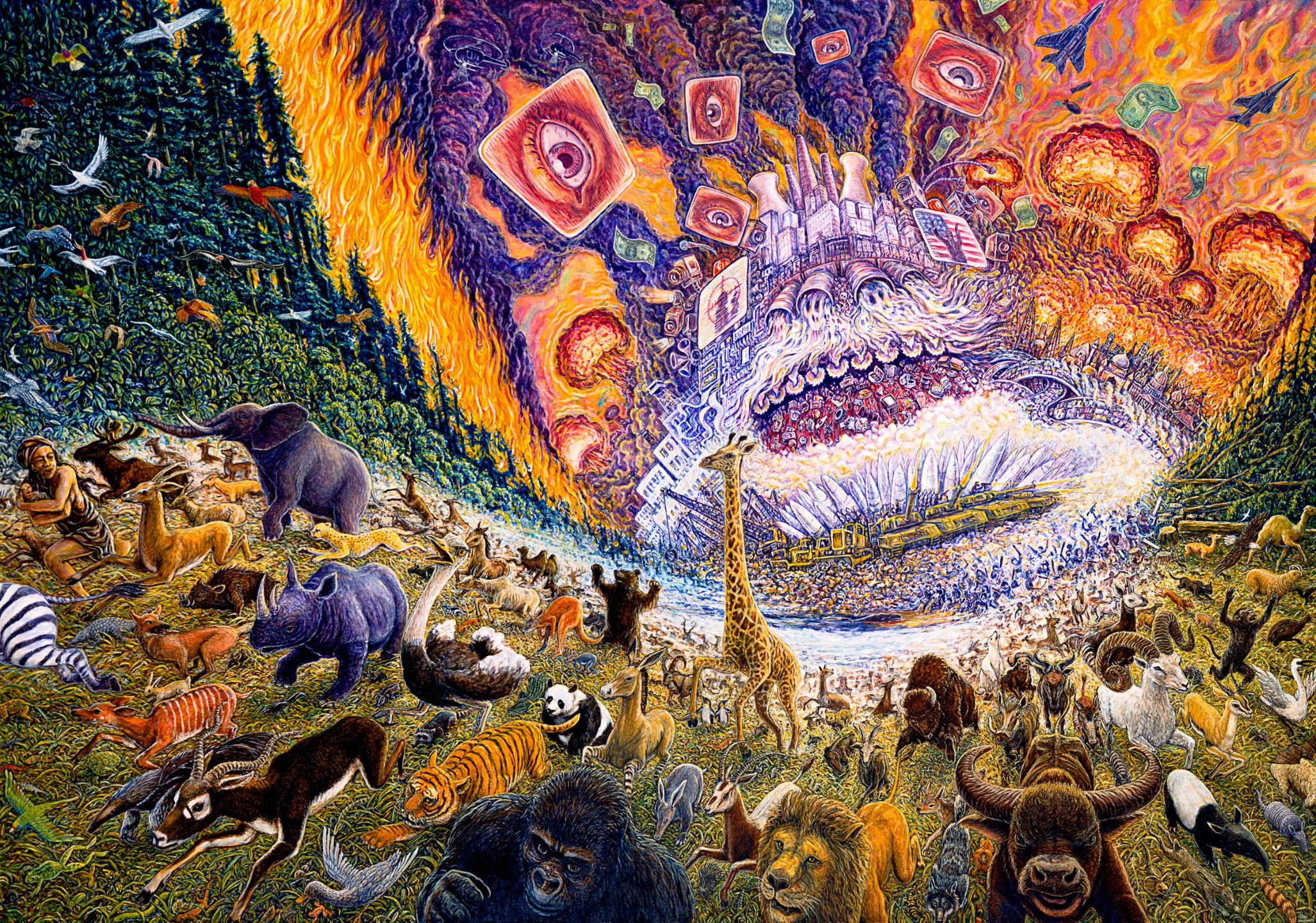 As artists, our task is to envision ways to share the planet with all beings...
What will our homes look like?
How shall we feed ourselves?
What will we wear?
How shall we get around?
In this seminar we will enter a discussion about our role as artists in the world today. Together we will explore ideas of how to build our future lives, and create artwork depicting a world where we humans and all life can thrive in the natural world, while creating technologies that foster a better life for all.
We will demonstrate some processes for manifesting your images through composition, color and form. In order to bring your ideas and concepts to life you will be guided through the technical application of charcoal and indirect painting with acrylics. Students will receive instruction on perspective, charcoal drawing, different imprimatura's, decalcomania, how to develop underpaintings, and color glazing.
We are excited to take this journey together to envision a regenerative Earth that supports life for all!
See you in the studio!
- Mark Henson
and
Amanda Sage
MATERIALS PROVIDED
Tables

Easels

Chairs

Acrylic Paint - h

ere is a selection of Fluid Golden Acrylic paints that Amanda will bring:

Titanium White

Hansa Yellow

Indian Yellow

Quinacridone Burnt Orange

Raw Umber

Pyrrole Red

Quinacridone Magenta

Dioxazine Purple

Manganese Blue

Phtalo Blue

Carbon Black

Acrylic Glazing Medium

Brushes -

These are what Amanda recommends and will have available for you to use and purchase at the seminar:

Princeton synthetic brushes, Filbert 4, 8, 12/ Flat assorted/ Round 4, 8

Canvases 16" x 20"

Vine Charcoal

Kneaded Erasers

Mahl Stick Materials (see demonstration video in your online course prep materials.)
RECOMMENDED MATERIALS to Bring:
Artists are encouraged to bring their favorite paints, tools, and working surfaces but we will have supplies on hand to fill in any gaps and for those who do need. Take inventory of what you already have and only order/buy what you need or can afford. We suggest you try out our paints before investing in new ones so you get to know what you like!
Ask questions in our student forum so others can learn from your inquiries as well!

Sketch Book with pens & pencils

Personal brushes

If you can bring a travel easel and light to attach that would be great!

Bring an assortment of your own acrylic paints if you want. We will have a selection available of the paint we use for the class.

Palette: You can use a plate, or palette or better yet A Sta-Wet palette:

Here is a list of suggested materials that you can order ahead of time if you like:

https://www.dickblick.com/lists/blicku/0XXU5CLIBMR70
SCHEDULE
Workshop times Fri-Sun: 9:30am - 6pm daily with after class evening get togethers and sharing sessions.
Thursday 5-8pm: Introduction, Slideshow & Lecture.
Friday: Discuss our themes, have short demonstrations of compositional and perspective considerations, with a slide lecture showing what artists throughout the world are creating related to our theme. We will draw up some quick sketches for our paintings, transfer them to the canvas, and begin to lay out our images.
Saturday: We will begin to bring light into the painting, using acrylic. As we work, Mark and Amanda will be offering tips and suggestions to each participant, helping them to achieve their artistic goals, as well as working alongside demonstrating our particular methods of constructing an image.
Sunday: We will aim to finish our paintings, and in the later part of the day we will make an exhibition of everyone's work and we can discuss and critique the paintings, sharing ideas to encourage our growth as artists.
Monday 9:30am-12pm: Closing Circle
LOCATION
Lovely San Francisco, in a large and clean gallery/warehouse space in a quiet and safe neighborhood, easily accessible to freeways and public transportation. Exact location will be provided upon approval.
We suggest and offer to connect out-of-town participants in networking to coordinate accommodation and ride-sharing.
COURSE CONTENT & RECORDING CONSENT
All students of 'Mechanics of Nature' will have access to our online course content, supplemental material, live recordings, and student forum through our website. Live lectures and demonstrations may be recorded for educational purposes. These recorded resources will be available to all registered students in their online course content following the seminar's conclusion.
*No student participation or private studio time will be recorded without further consent.
Students attending 'Mechanics of Nature' with Amanda Sage and Mark Henson must consent to photography, audio recording, video recording, and their release, publication, exhibition, or reproduction to be used for live streaming, promotional purposes, advertising, inclusion on website, and/ or any other purpose by ViTra Academy and the Vision Train. You release ViTra Academy/ Vision Train, its engineers, conductors, and all persons involved from any liability connected with the taking, recording, digitizing, and or publication of photographs, computer images, video, and/or sound recordings.
By attending 'Mechanics of Nature', you waive all rights you may have to any claims for payment of royalties in connection with any exhibition, streaming, webcasting, or other publication of these materials, regardless of the purpose. You also waive any right to inspect or approve any photo, video, or audio recording taken by ViTra Academy/ Vision Train or the person or entity designated to do so by ViTra Academy/ Vision Train.
You have been fully informed of your consent, waiver of liability, and release before attending 'Mechanics of Nature'.
Mark Henson
From the Artist:
I've always been interested in weird stuff. I was elated to discover that through the use of a pencil I could create my own universe, if only on paper. I was lucky enough to encounter some ancient wisdom from India while a youngster, and so I learned to focus my creative ability on what I do best, and to work for the enlightenment of all.
My art tends to be somewhat narrative- I like to tell a story or show a state of emotion or consciousness with my images. I often begin with some sort of idea or theme. This theme might be suggested by anything, or may just drift into consciousness during my day. I am often asked if I receive these images while dreaming asleep.
Sometimes they do come in dreams, but usually they are floating around in my mind, just waiting to be noticed.
While I tend to be a down-to -earth person, when aspiring to creativity, I begin by looking deeply within myself, and seek to express what I may find there. My sincere wish is to tap into the Divine Source of Being, to Consciousness, to Spirit, or whatever you may call it-, that place where existence comes from, and to bring into visual reality images manifesting the knowledge revealed while in this presence. Strangely enough, I have discovered that the more intensely personal my vision is, the more universal its message when presented to the world.
I believe that art can have the ability to catalyze social and cultural changes. Art has the magical power to evoke emotional as well as intellectual thinking. Realizing this, my desire as an artist is to create compelling images of beauty and power that serve to promote our Conscious Evolution as human beings, and to show us how to live in a peaceful world. To this end I like to explore and present images with themes of Awakening Consciousness, Divine Sexuality, Political Realities and Living in Harmony with Nature.
www.markhensonart.com
Amanda Sage
Born 1978 in Denver, Colorado Amanda Sage is an artist using her painting as a tool for spiritual and planetary growth and transformation. Her paintings represent multidimensional aspects of humanness in harmonious balance, inspiring a re-membering of an energetic inter-connectedness that is present and shared with all things.

In 1997 she apprenticed for 2 years in classical painting techniques with Michael Fuchs in Vienna Austria. This led to becoming a painting assistant to Ernst Fuchs, founder of Fantastic Realism, for 10 years while developing her own style and portfolio as a resident artist at the culture house WUK in Vienna.
Since 2009 she has been based in Los Angeles and influential in networking artists and initiatives while hosting workshops, lecturing and exhibiting world wide. Her work is mostly in private collections with some pieces also in the permanent collection of the Kirkland Museum in Denver, Colorado.

In 2014 together with designer Shabnam Q, the 'Amanda Sage Collection' was launched online. An independent fashion label leading the frontier of visionary art and fashion. "Wearable visionary art, made with love from threads of light".

She is a co-founder of the Vienna Academy of Visionary Art and is on the board of directors of CoSM (Chapel of Sacred Mirrors) Alex & Allyson Grey's art sanctuary in New York. She has also pioneered painting retreats in Eco-Villages such as Paradise One, Byron Bay Australia and PuntaMona, Costa Rica.
When not traveling she can be found in one of her studios in Los Angeles, Vienna Austria or Gunnison Colorado.
www.amandasage.com